Avast One is currently available only in Australia. To learn more about Avast Premium Security, refer to the following article:
Avast One is a security and optimization tool that scans your PC to identify unnecessary items and performance issues, frees up disk space to improve the speed of your system, and allows you to browse safely and privately online.
This article assumes that the latest version of Avast One is installed and activated on your PC. For detailed instructions, refer to the following articles:
Review alerts
Each time you open Avast One, you see alerts that need your attention. Click the button on each alert to resolve it immediately. Alerts notify you about the following issue types:
Disconnection issues
Scan reminders
Leaked data
If you are using Avast One for the first time after installation, or you have no immediate alerts to resolve, click Run Smart Scan and follow the on-screen instructions. Smart scan detects the following issues on your PC:
Bad browser add-ons
Viruses and malware
Vulnerable software
Performance issues
<
Protect your PC
Avast One includes many protection features, such as scans and shields, which help your PC run safely and alert you about harmful files and connections. To use these features and manage their settings:
Click the Device protection tile on the Avast One dashboard.
Select one of the following features:

Scans: Run Deep Virus Scan, Targeted Scan, Boot Time Scan, and Disk Clean.
Real-time file scanning: Manage settings for Real-time file scanning, which scans each file as you open it.
Ransomware shield: Protect specific folders and file types from being corrupted by ransomware. From here, you can also block or allow specific apps that try to access your protected folders and file types.
Web Shield: Manage settings for Web Shield, which blocks web attacks and unsafe downloads. From here, you can also click Show Blocked websites to add a website that you want to block.
Firewall: Define which programs and services on your PC can connect to the internet, and how. Select Block next to a service you don't want to connect to the internet. From here, you can also specify whether you want your PC to be visible or hidden. We recommend keeping your PC hidden unless you want to connect to another device on a private network.
Virus Vault: Add files to the Virus Vault, which acts as a quarantine for suspicious files. From here, you can send them to Avast Threat Labs for analysis, restore the files, and add the files as exceptions.
Sensitive Data Shield: Protect files containing sensitive personal data, such as passwords and banking information, from unauthorized access and malware.
Fraudulent site detection: Secure your URLs, and prevent hackers from redirecting you to fake websites by hijacking your DNS (Domain Name System) settings.
Browse privately
Avast One includes a Virtual Private Network (VPN) feature, called Secure connection, which disguises your real IP address while you browse online. To connect to the VPN:
Click the Secure connection tile on the Avast One Dashboard.
Click the slider so that it changes from orange (OFF) to green (ON).
Additionally, allow the VPN to connect automatically by ticking the box next to Turn on VPN automatically.
Protect your identity
Avast One's built-in identity protection features protect your personal data and alert you if a breach occurs. To use these features and manage their settings:
Click the Personal identity tile on the Avast One Dashboard.
Select one of the following features:

Data leak monitoring: monitors your email addresses for leaks, and alerts you if any breaches occur.
Browser clean-up: deletes browser history and cache that track you as you browse online.
Webcam Shield: blocks applications and websites from accessing your webcam without your permission.
Boost performance
When you use the performance tools regularly, they can enhance your PC's performance, clear disk space, and eliminate unwanted programs and security risks. To use the performance features:
Click the Smooth performance tile on the Avast One dashboard.
Select one of the following features:

Scan for junk: Runs a Smart Scan, which detects bad browser add-ons, viruses, vulnerable software, and other performance issues that may be lurking on your PC.
Disk Cleaner: Clean redundant or unnecessary files found during Avast One scans.
Software Updater: Update outdated programs on your PC. From here, you can also allow Software Updater to automatically update outdated programs without notifying you.
App Optimizer: Put background apps to sleep, and preserve your PC's resources for the apps you want to run.
Manage settings
To manage settings in Avast One, go to Me ▸ Settings, then scroll to one of the following settings: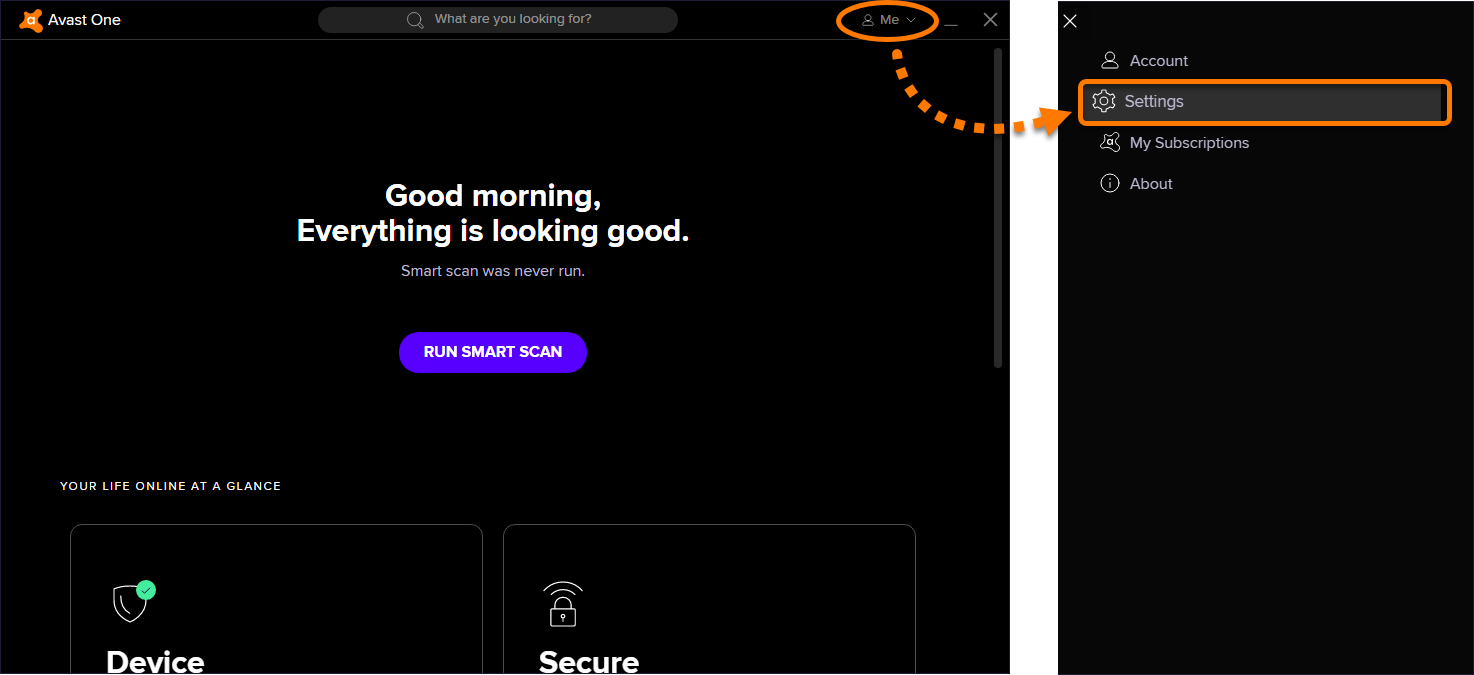 Update: Update virus definitions and application version to ensure you're using the latest version of Avast One.
Notifications: Specify which notifications you want to see from Avast.
Exceptions: Define websites, files, and folders you want to exclude from all scans and shields.
Password: Create a password for Avast One, and specify which parts of the app it protects.
Personal Privacy: Read Avast's Privacy Policy and Product Policy, and opt out of threat and app-usage data sharing.
Troubleshooting: Enable Passive Mode, delay Avast startup, repair the Avast app, and back up or reset app settings.
Further recommendations
To explore all of Avast One's features, click the Search bar at the top of the Avast One dashboard, and select Explore all features.
Some features in Avast One Free are limited, and some require a separate, paid subscription to use.
For more information about Avast One, refer to the following article:
Avast One 20.x for Windows
Avast One Free 20.x for Windows
Microsoft Windows 10 Home / Pro / Enterprise / Education - 32 / 64-bit
Microsoft Windows 8.1 / Pro / Enterprise - 32 / 64-bit
Microsoft Windows 8 / Pro / Enterprise - 32 / 64-bit
Microsoft Windows 7 Home Basic / Home Premium / Professional / Enterprise / Ultimate - Service Pack 2, 32 / 64-bit