Avast AntiTrack Premium is a privacy application designed to keep your identity safe from the latest online tracking techniques and protect your system privacy. After installing Avast AntiTrack Premium and activating your subscription, refer to the sections in this article to learn how to use Avast AntiTrack Premium.
Enable browser extensions
Avast AntiTrack Premium automatically checks for Google Chrome, Mozilla Firefox and Opera browsers on your PC when you open the application for the first time. You will be prompted to install the Avast AntiTrack extension for each browser you have installed. If you skip this step or need to install the extension later, refer to the following article:
The Avast AntiTrack Premium browser extension is automatically installed and enabled on Internet Explorer and Microsoft Edge browsers.
Improve your privacy score
Avast AntiTrack Premium includes several components that work together to protect your privacy. The Privacy Status screen displays your privacy score, which is an indication of how well your privacy is currently protected. Your privacy score is highest when all components are enabled. To improve your privacy score:
Ensure you are on the Privacy Status screen, then click Improve My Privacy Score.
The Privacy Score tab displays the current status of each component that can be enabled or modified to boost your privacy score. The status indicators are color coded:

Red: serious issues that are preventing Avast AntiTrack Premium from protecting your privacy.
Yellow: suggestions to further improve your privacy.
Green: components that are enabled or configured effectively to protect your privacy.

Click a component panel to enable or modify its settings.
After enabling or modifying a component, click Privacy Status in the left panel to view your improved privacy score.
Configure Windows privacy settings
Your Windows operating system has many privacy related settings that Avast AntiTrack Premium can optimize and monitor for increased privacy. To adjust recommended settings for best system privacy:
Select System Privacy in the left panel, then click Get Started.
Recommended settings are divided into three groups:

Keep me private from my system: stop Windows from collecting data about how you use your PC.
Keep my data private: stop Windows, other applications, and third parties from collecting data about your photos, music, and other media files stored on your PC.
Hide me from hackers: stop hackers from being able to access data stored in your computer accounts.

Click Manage next to a group to modify its privacy options.
By default, all privacy options are enabled. To disable a privacy option, click the box next to a privacy option to untick it. Then click Save.
Repeat steps 2-3 above for the remaining system privacy groups. Then click Apply Settings and Restart PC.
Click Yes to restart your PC.
We recommend saving your work and closing all other applications before restarting your PC.
Your system privacy settings are applied when your PC restarts. Avast AntiTrack Premium now actively monitors your system privacy settings and notifies you if any settings are changed without your permission.
Monitor tracking attempts
Avast AntiTrack Premium allows you to see exactly when tracking attempts are blocked and which websites are attempting to track you. The Privacy Status screen displays an overview of:
Tracking Activity: the time and date of recent tracking attempts, the websites that tracked you, and the Tracking Source.
Top Tracking Websites: the websites that have attempted to track you most frequently.
Total Tracking Attempts Blocked: the total number of tracking attempts blocked by Avast AntiTrack Premium since you installed the application.
To view your full Tracking History, click Reports in the left panel and select the Tracking History tab.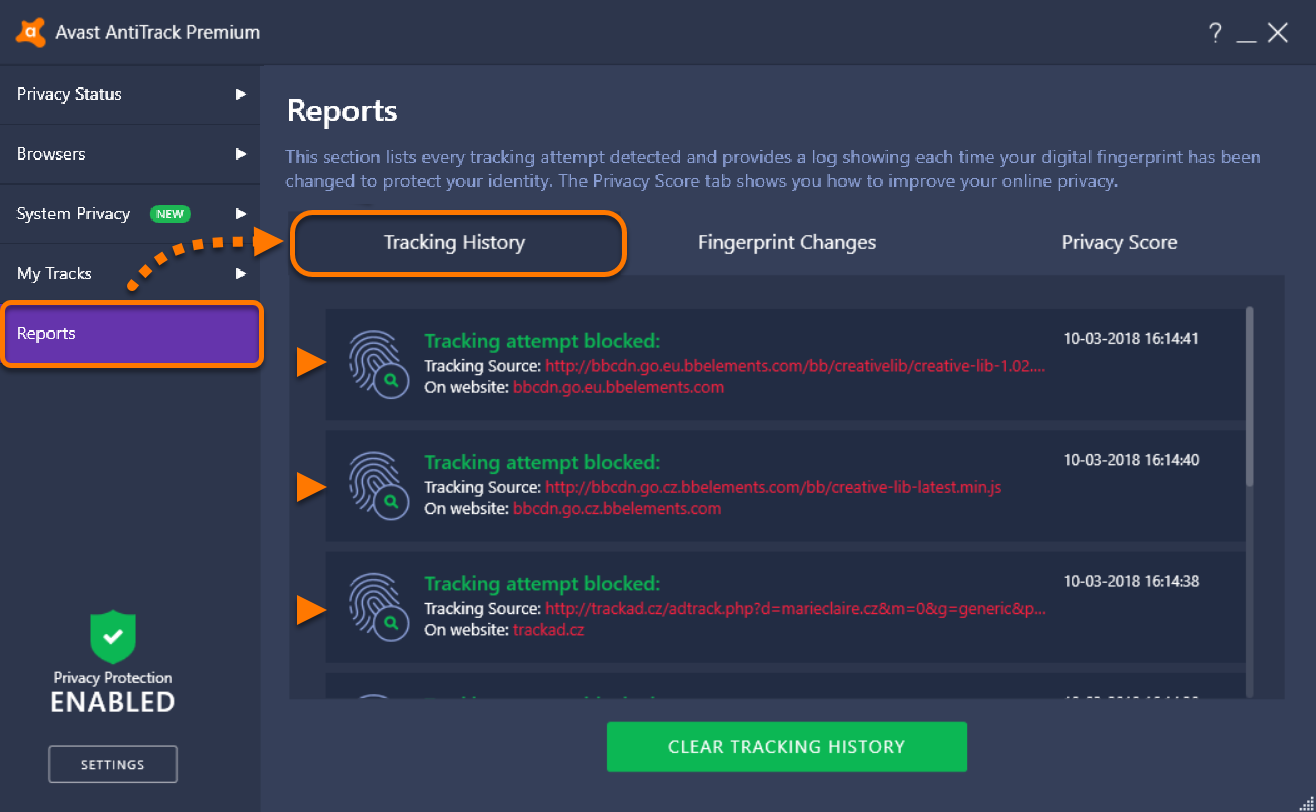 Monitor Fingerprint Changes
AntiTrack Premium continuously changes your digital fingerprint on a randomized schedule to protect your online identity. To view a log of changes to your digital fingerprint:
Click Reports in the left panel.
Select the Fingerprint Changes tab to view how many times your digital fingerprint has been changed and exactly when it was changed.
Clear cookies
Cookies are files that websites, trackers, and third parties leave on your browser, which allow them to view your online activity. To protect your online privacy and configure Avast AntiTrack Premium to regularly clear cookies from your browsers:
Click My Tracks in the left panel.
Use the Cookie clearing drop-down menu next to your chosen browser to select how regularly cookies are cleared.
Cookies are now regularly cleared from the selected browser automatically.
To prevent cookie clearing on certain websites:
Click My Tracks in the left panel.
Click Open Whitelist.
Tick one or more "popular" websites in the drop-down menu... ...or click the text box, type a URL (for example, www.example.com), and click Add.
The selected websites are now excluded from cookie clearing and appear on your Whitelist.
Clear browsing data
Browsing data is information that is often stored in your browser when you visit websites. Avast AntiTrack Premium allows you to specify exactly which types of browsing data you wish to clear:
Click My Tracks in the left panel.
Click Clear Data next to your chosen browser.
Tick the types of browsing data you would like to clear (or tick Select all).
Optionally, tick Save my settings to ensure that Avast AntiTrack Premium remembers your preferred selections for all browsers each time you click Clear Data.
Click Clear Selected Data.
The selected browsing data is now cleared from your chosen browser.
Manage your Avast AntiTrack Premium settings
Click Settings in the bottom-left corner of the interface to modify your Avast AntiTrack Premium settings: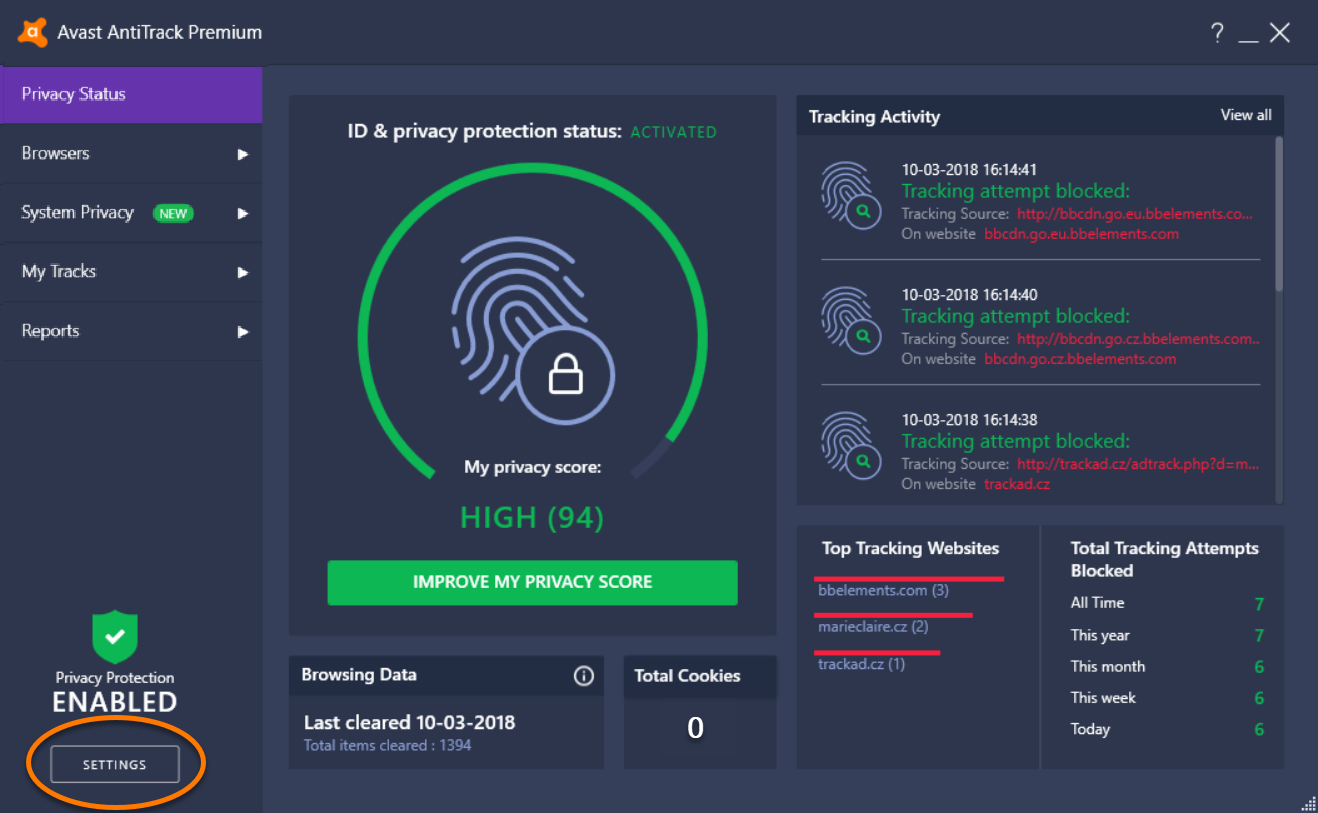 Tick or untick the following settings:

Enable Tracking Detection (enabled by default): allows Avast AntiTrack Premium to write entries in the Tracking Activity record. If you disable this setting, your browser remains protected, but Avast AntiTrack Premium does not gather data during tracking attempts.
Show notifications for fingerprint changes: displays a notification each time your digital fingerprint is changed.
Start Avast AntiTrack when I start my computer (enabled by default): allows Avast AntiTrack Premium to start automatically each time you turn on your PC.
Minimize AntiTrack Premium when started: minimizes the Avast AntiTrack Premium interface at launch.
Allow filtering of HTTPS traffic for tracking detection (enabled by default): allows Avast AntiTrack Premium to inspect HTTPS traffic for tracking attempts.

Use the drop-down menus to modify the following settings:

Notify me of blocked tracking attempts: define how often you want to see notifications about blocked tracking attempts. Select Never to disable notifications.
Select language: click your preferred language, and click Yes to confirm.

From the settings screen, you can also view:

Subscription Status: view your Activation code.
Updates: view your current program version and confirm that it is up to date. If you think your program version may not be up to date, click Check For Updates to download and run the latest version of Avast AntiTrack Premium.
Avast AntiTrack Premium 1.x
Microsoft Windows 10 Home / Pro / Enterprise / Education - 32 / 64-bit
Microsoft Windows 8.1 / Pro / Enterprise - 32 / 64-bit
Microsoft Windows 8 / Pro / Enterprise - 32 / 64-bit
Microsoft Windows 7 Home Basic / Home Premium / Professional / Enterprise / Ultimate - Service Pack 1, 32 / 64-bit