If you experience an issue with Avast Antivirus, we recommend you verify that the program is fully installed, up to date, and functioning properly before taking further troubleshooting steps.
Installation
Select your version of Windows and follow the steps to confirm that Avast Antivirus is installed on your PC using the Programs and Features section of your Windows Control Panel:
If your version of Avast Antivirus does not appear in the list of programs and features, the program is not installed on your PC. Refer to the relevant article to install your preferred version of Avast Antivirus:
Subscription
To determine whether your Avast Premier, Avast Internet Security, or Avast Pro Antivirus subscription is active follow these steps:
Right-click the Avast icon in your system tray and select Subscription information from the menu that appears.
On the Subscription screen, confirm that the text Active appears next to Subscription status.

You can also confirm the expiration date and number of days remaining, if your subscription is active.
If your subscription is not active, refer to the relevant article according to your version of Avast Antivirus for activation instructions:
For information about registration of Avast Free Antivirus, refer to the following article:
Program and Virus Definitions
To ensure you are fully protected, keep Avast Antivirus up to date at all times. If you are unsure whether you are using the latest version of the program or whether the virus definitions used by the program to protect you are up to date, refer to the following article:
When troubleshooting issues with Avast support, you may be asked to provide information about your Program and Virus Definitions versions. Follow these steps to obtain the required information:
Right-click the Avast icon in your system tray and select About Avast.
On the About Avast screen, refer to the following information which is visible at the top of the screen:

Program version
Virus definitions version
Number of definitions
For information about Avast Antivirus updates, see the following references:
Protection status
To determine the current status of your Avast Antivirus protection, open the user interface (right-click the Avast
icon in your system tray and select Open Avast user interface from the menu that appears). The status is visible on the main screen of the user interface.
The text You're protected indicates that Avast Antivirus is up to date, actively protecting your PC against malware, and has not detected any current threats. When this status appears, no actions are required of you.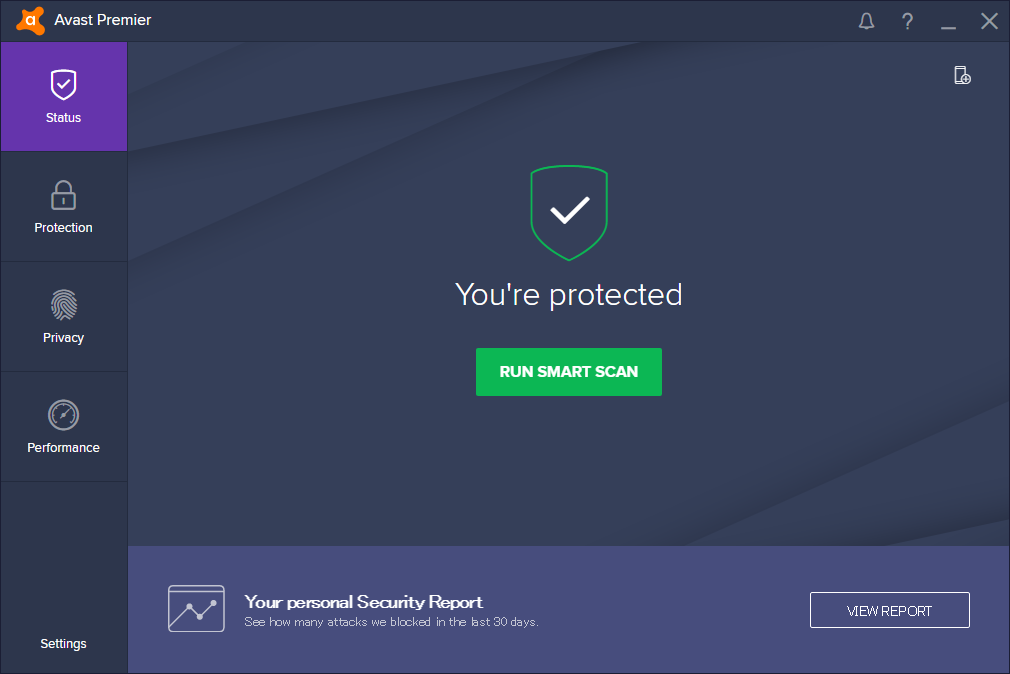 The following statuses require your attention:
You're in danger
You're vulnerable
Avast is down
If any of these statuses appear, click the option displayed below the status to resolve the issue. These options may include Restart Now or an individual action such as turning on protection components which are currently turned off.
To further verify that Avast Antivirus is protecting your PC against malware, refer to the following article for steps:
Avast Ultimate 17.x
Avast Premier 17.x
Avast Internet Security 17.x
Avast Pro Antivirus 17.x
Avast Free Antivirus 17.x
Microsoft Windows 10 Home / Pro / Enterprise / Education - 32 / 64-bit
Microsoft Windows 8.1 / Pro / Enterprise - 32 / 64-bit
Microsoft Windows 8 / Pro / Enterprise - 32 / 64-bit
Microsoft Windows 7 Home Basic / Home Premium / Professional / Enterprise / Ultimate - Service Pack 1, 32 / 64-bit
Microsoft Windows Vista Home Basic / Home Premium / Business / Enterprise / Ultimate - Service Pack 2, 32 / 64-bit
Microsoft Windows XP Home / Professional / Media Center Edition - Service Pack 3, 32-bit