Avast Battery Saver is a tool designed to extend the battery life of your PC by reducing internal and external power demands. You can switch between battery saver profiles depending on your need to either extend battery life or maximize system performance. You can also create a personalized custom profile to reflect your exact requirements and preferences.
This article provides instructions and recommendations for first-time users of Avast Battery Saver, and describes how to navigate the user interface to immediately get started extending the life of your battery.
This article assumes that Avast Battery Saver is already installed and activated on your PC. For detailed installation and activation instructions, refer to the articles below:
Open Avast Battery Saver
To access the Avast Battery Saver user interface, use one of the following methods:
Double-click the Avast Battery Saver icon on your Windows desktop.
Right-click the Avast Battery Saver system tray icon on your Windows taskbar, and select Avast Battery Saver.
The Avast Battery Saver user interface is now open.
Avast Battery Saver dashboard
On the Avast Battery Saver dashboard you can view information about the current status of your battery, select a battery saver profile, and manage basic settings.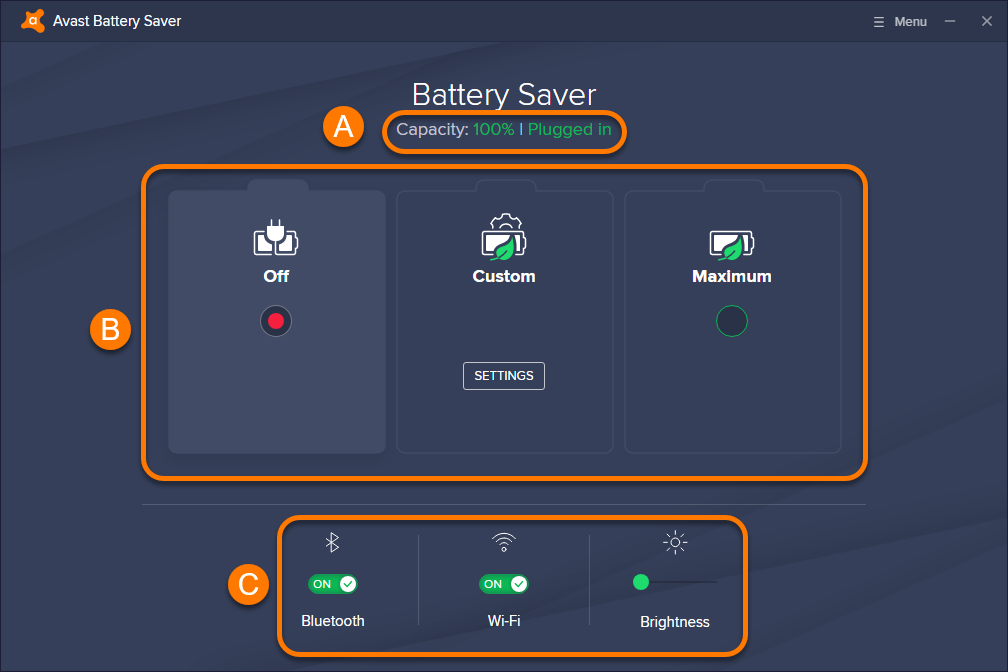 Battery Capacity and status: displays the remaining battery life percentage and battery status:

Plugged in: your PC is plugged in and fully charged.
Charging...: your PC is plugged in and not fully charged.
If your PC is unplugged, the time remaining on your battery is displayed.

Battery saver profiles: choose from three battery saver profiles:

Off: Avast Battery Saver takes no action to extend your PC's battery life. Your PC operates according to your currently configured Windows settings.
Custom: optimizes battery life according to your personalized custom mode settings.
Maximum: prioritizes battery life over performance. Settings are preconfigured to adjust your PC's processing speed and display settings to maximize battery life.

Bluetooth, Wi-Fi, and Brightness: Bluetooth and Wi-Fi settings correspond to your current Windows settings. Brightness changes according to the selected battery saver profile.
Manage battery saver profiles
Each battery saver profile is a configuration of settings that manage how your PC uses power.