Sensitive Data Shield, available in the latest version of Avast Premium Security (previously Avast Premier) and Avast Omni, scans and protects your sensitive documents against unauthorized access and malware. Sensitive files contain your personal information that, if revealed, can compromise your privacy and identity. Sensitive Data Shield secures your private data by controlling which applications and users have access to your files.
Scan your PC for sensitive documents
Open the Avast user interface, and go to Privacy ▸ Sensitive Data Shield.
Click Scan For Sensitive Documents.
Sensitive Data Shield starts scanning your PC for sensitive documents. If you want to stop scanning, click Stop scan.
The basic functionality of Sensitive Data Shield is also integrated into Smart Scan, which can be run from Protection ▸ Virus Scans ▸ Run Smart Scan.
Review scan results
After scanning, Sensitive Data Shield displays a list of vulnerable documents that were found on your PC. This list includes the Vulnerable document name, Location, and Type. The file types are organized in categories, such as: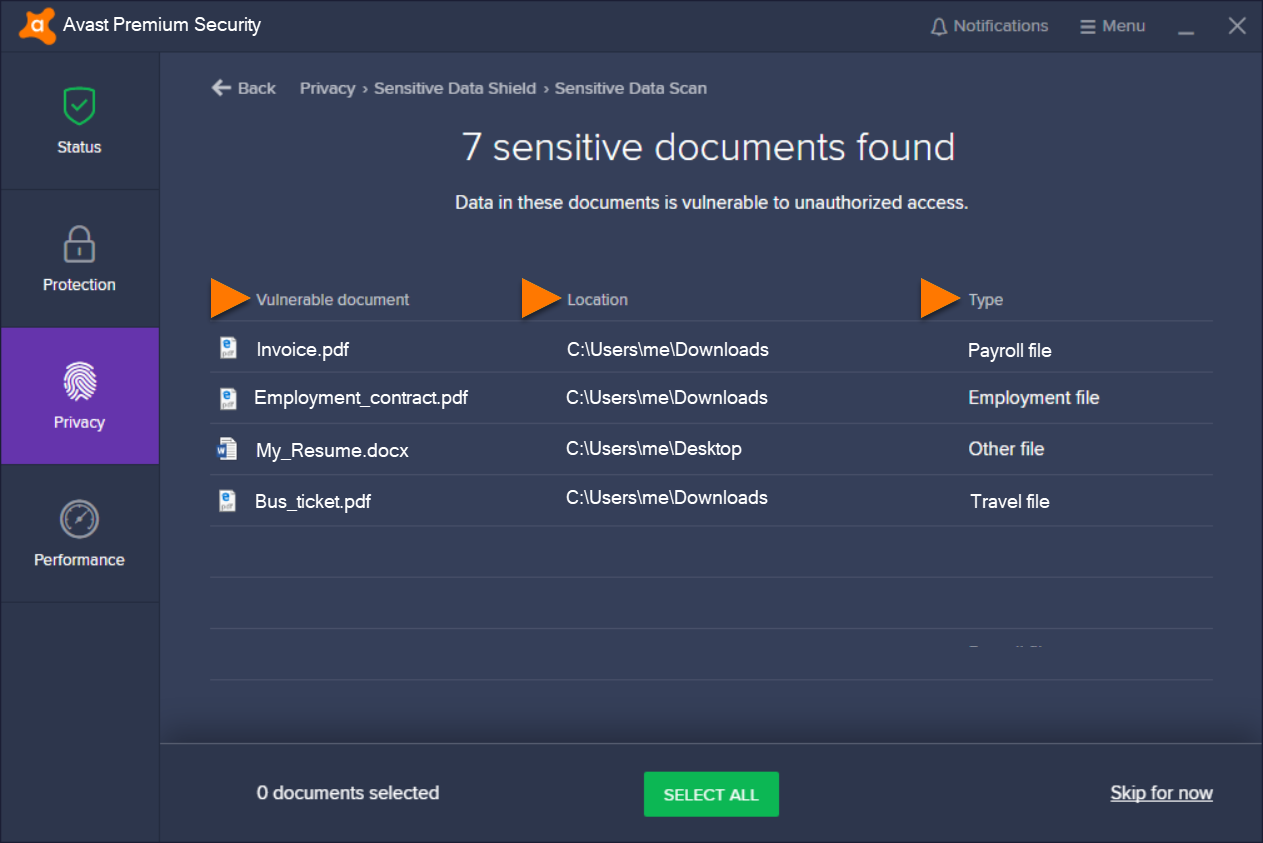 Tax file
Payroll file
Employment file
Travel file
Other file
These documents may contain your personal data. If malware or hackers attack your PC and get access to these documents, your identity can be stolen and misused.
Protect your data
When the Sensitive Data Scan finishes, all found documents are selected by default. Untick the box next to a file to deselect it. To start protecting all selected sensitive documents:
Click Protect all or Protect Selected at the bottom of the screen.
Click Done to confirm the action and return to the main Sensitive Data Shield screen.
To stop protecting your sensitive documents, hover the cursor over the relevant panel, and click the X icon that appears. Click Stop Protecting to confirm.
Your sensitive data is now protected. If any untrusted application, malware, or user who is not logged into your Windows account tries to access your protected files, Sensitive Data Shield blocks access or prompts you to confirm if the access attempt should be blocked.
Manage access to your sensitive documents
Open the Avast user interface, and go to Privacy ▸ Sensitive Data Shield.
Click the gear icon in the top-right corner.
On the Settings screen, you can manage the following settings:

Disable Sensitive Data Shield: click the (ON) slider so that it changes to (OFF). We recommend keeping Sensitive Data Shield enabled at all times, and only disabling it for temporary troubleshooting purposes.
Restrict document access to this Windows account (ticked by default): we recommend keeping this option ticked at all times to ensure Sensitive Data Shield can protect your sensitive data from hackers and malware attacks.
View allowed / blocked apps: click this option to open the Blocked & Allowed apps screen. For more information about using the Blocked & Allowed apps screen, refer to the article below:
Avast Premium Security 19.x
Avast Omni 1.x
Avast Premier 19.x
Avast Internet Security 19.x
Microsoft Windows 10 Home / Pro / Enterprise / Education - 32 / 64-bit
Microsoft Windows 8.1 / Pro / Enterprise - 32 / 64-bit
Microsoft Windows 8 / Pro / Enterprise - 32 / 64-bit
Microsoft Windows 7 Home Basic / Home Premium / Professional / Enterprise / Ultimate - Service Pack 1, 32 / 64-bit