Avast AntiTrack is a privacy application designed to keep your identity safe from the latest online tracking techniques.
This article assumes that Avast AntiTrack is already installed and activated on your Mac. For detailed instructions, refer to the following article:
To get started, click the Avast AntiTrack icon in your menu bar and select Show Avast AntiTrack. Alternatively, go to Launchpad and click the Avast AntiTrack icon to open the application.
Dashboard
The dashboard provides an overview of data recorded by Avast AntiTrack, and includes currently configured settings:
Digital Fingerprint Protection: your current browser protection status, which you can configure by enabling all your supported browsers to secure your digital fingerprint.
Privacy Score: your current privacy score, which you can improve by enabling more features in Avast AntiTrack.
Browsing Data: the date your browser data was last cleared, including the number of items cleared during that session.
Total Cookies: the total number of cookies Avast AntiTrack has cleared since activation.
Latest Tracking Activity: the most recent tracking attempts detected by Avast AntiTrack. Click the arrows to change your view, or click View Full Report to see all tracking attempts.
Top Tracking Websites: the top 5 websites that have most frequently attempted to track you.
Total Tracking Attempts Blocked: the total number of tracking attempts blocked by Avast AntiTrack since activation.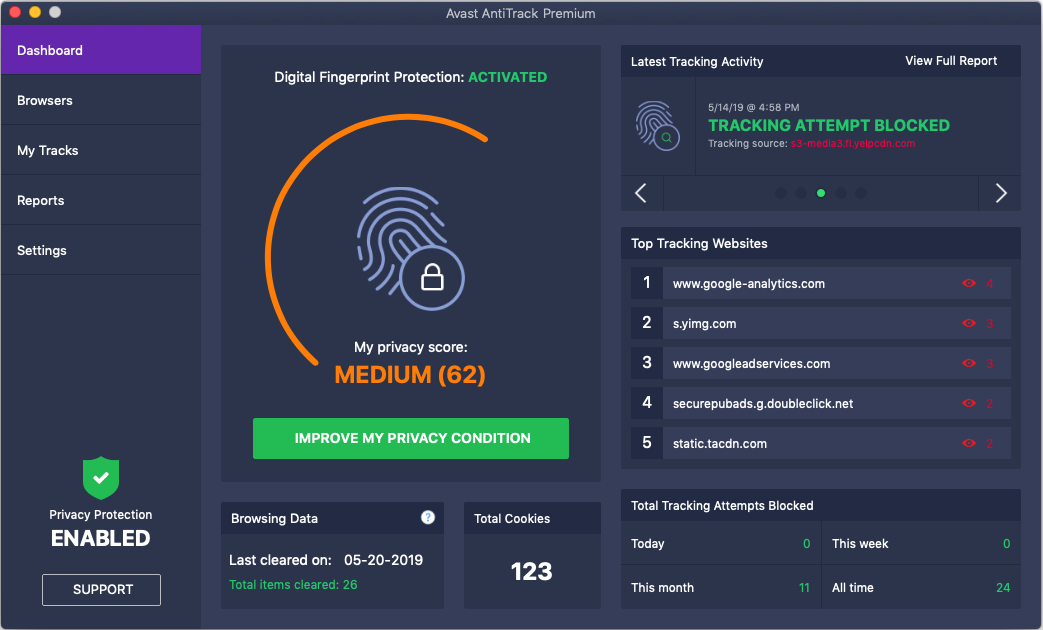 Enable browser protection
Secure your identity and personal data when using the internet by enabling browser protection for each of your supported web browsers. Avast AntiTrack currently supports Safari, Chrome, Firefox, and Opera.
Click Browsers in the left-side panel.
Click the red (OFF) slider next to your chosen browser, so that it changes to green (ON).
Browser protection is now enabled for your selected web browser. Repeat the steps above for each of your web browsers.
Clear your cookies and browser data
On the My Tracks screen you can schedule cookie clearing for each supported browser, clear your browsing data, and add a website to your whitelist to prevent cookie clearing on specified websites.
Clear cookies
Cookies are files that websites, trackers, and third parties leave on your browser, which allow them to view your online activity. To protect your online privacy and configure Avast AntiTrack to regularly clear cookies from your browsers:
Click My Tracks in the left-side panel.
Click the expandable menu in the Scheduled cookie clearing column for the corresponding browser, then select an option from the list.

Safari requires full disk access before you can set a cookie clearing schedule. Click Allow disk access then follow the on-screen instructions to allow Avast AntiTrack to clear cookies from Safari.
Cookies are now automatically cleared from the selected browser according to the schedule you defined.
Clear browsing data
Browsing data is information that is stored in your browser when you visit websites. Avast AntiTrack allows you to specify exactly which types of browsing data you wish to clear:
Click My Tracks in the left-side panel.
Click Choose data to clear next to your chosen browser.
Tick the box next to each type of browsing data you would like to clear (or tick Enable All).

The types of browsing data available to clear vary depending on the browser you have selected.

Click Clear Selected Data.
The selected browsing data is now cleared from your chosen browser.
Cookie whitelist
To prevent cookie clearing on certain websites:
Click My Tracks in the left-side panel.
Click Open Whitelist.
Click the text box and type a URL (for example, www.example.com), or click Choose from popular options to view the expandable menu and select a website from the list.
Click Add.
The selected website is now excluded from cookie clearing and appears on your whitelist. To delete a website from your whitelist, click the trash can icon next to the website in the whitelist.
Monitor tracking attempts, fingerprint changes, and improve your privacy score
On the Reports screen you can review your tracking activity history, details of your fingerprint changes, and the settings that contribute to your privacy score.
Monitor tracking attempts
Avast AntiTrack allows you to see exactly when tracking attempts are blocked and which websites are attempting to track you. A pop-up notification alerts you when you navigate to a website that is attempting to track you.

To view a full report with the time, date, and URL of all recent tracking attempts blocked by Avast AntiTrack go to Reports ▸ Tracking History.
To clear your tracking activity history data, click Clear Tracking Activity History.
Monitor fingerprint changes
Avast AntiTrack continuously changes your digital fingerprint on a randomized schedule to protect your online identity. To view a log of changes to your digital fingerprint go to Reports ▸ Fingerprint Changes.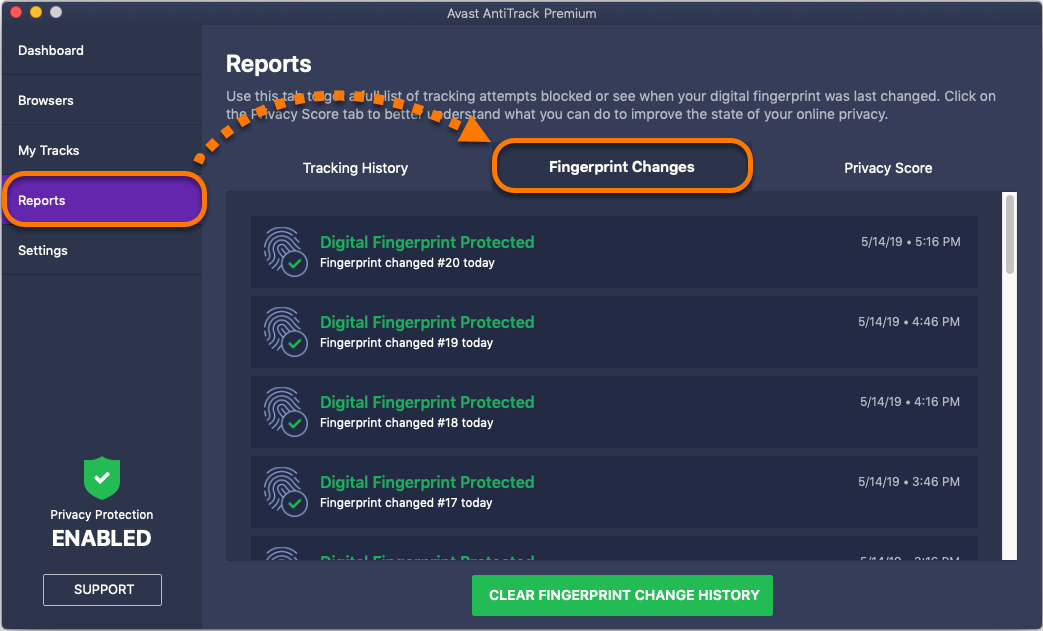 To clear your fingerprint change history, click Clear Fingerprint Change History.
Improve your privacy score
Avast AntiTrack includes several components that work together to protect your online privacy. Your privacy score is highest when all the components are enabled and your whitelist is empty. To improve your privacy score:
Click Reports in the left-side panel, then select the Privacy Score tab.
Review the information displayed for each component:

Red statuses: serious issues that are preventing Avast AntiTrack from protecting your online privacy.
Green statuses: components that are enabled or configured effectively to protect your online privacy.

Click a component to adjust its settings and change your privacy score.
Manage settings
On the Settings screen you can modify the following: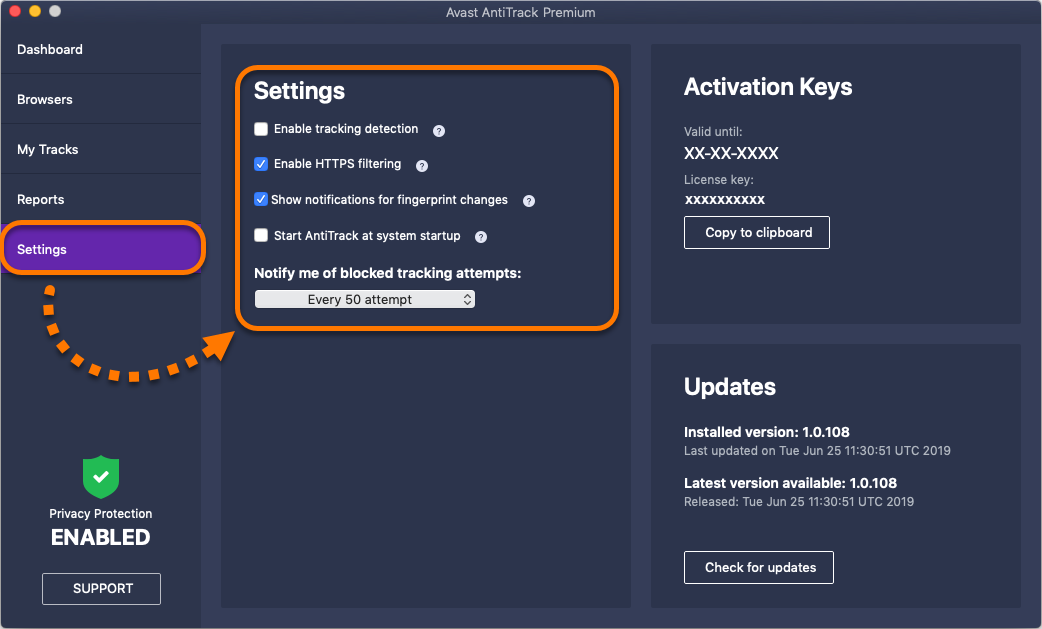 Enable Tracking Detection: allows Avast AntiTrack to write entries in the Tracking Activity record. If you disable this setting, your browser remains protected, but Avast AntiTrack does not record data during tracking attempts.
Enable HTTPS filtering (enabled by default): allows Avast AntiTrack to inspect HTTPS traffic for tracking attempts.
Show notifications for fingerprint changes (enabled by default): displays a notification each time your digital fingerprint is changed.
Start AntiTrack at system startup: allows Avast AntiTrack to start automatically each time you turn on your Mac.
Notify me of blocked tracking attempts: click the expandable menu to define how often you want to see notifications about blocked tracking attempts. Select Never to disable notifications.
Avast AntiTrack for Mac 1.x
Apple macOS 10.15.x (Catalina)
Apple macOS 10.14.x (Mojave)
Apple macOS 10.13.x (High Sierra)
Apple macOS 10.12.x (Sierra)
Apple Mac OS X 10.11.x (El Capitan)