Avast Antivirus protects your PC by detecting and blocking malicious behavior. To determine whether a website using cryptomining technology is malicious, we use a set of guidelines for acceptable behavior.
General guidelines:
Websites show a text box with all relevant information.
Websites do not mine before the site visitor grants it the right to mine by clicking on an Accept button.
The Accept button from text box works as a direct mining referral.
In case of changes in mining terms, a new text box with Accept and Decline buttons is shown.
Text box must be designed according to these rules:
All information is fully visible, readable and understandable.
Style is consistent for all information (reasonable size, logical position, color contrasting to background).
Accept and Decline buttons are presented in the same style and color.
Information in the text box must contain the following information:
Explanation of what mining is (this can be a link to more information)
Notice that leaving the page will immediately stop the mining
Notice of possible shortened battery life on the device
Notice of increased electricity consumption and how this can affect the site visitor's electricity bill
Example of correct textbox: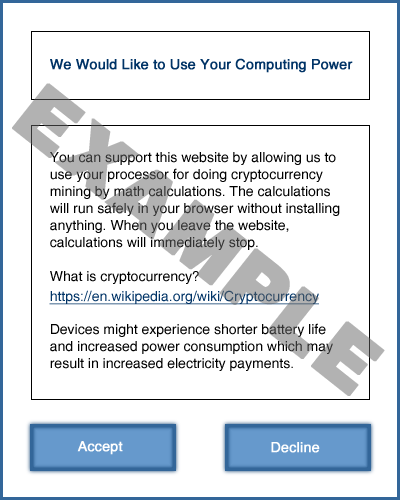 If you have questions regarding these guidelines, please contact Avast Support.
All available Avast antivirus software
All supported operating systems